Sapling (Pre Nursery)
Time - 3 hours
Age group- 2 to 3 years
Teacher student ratio - 1 : 10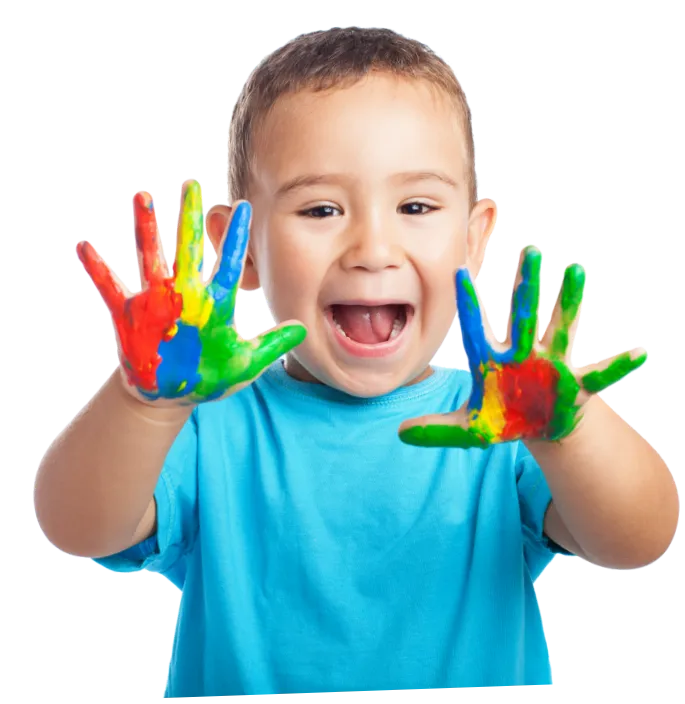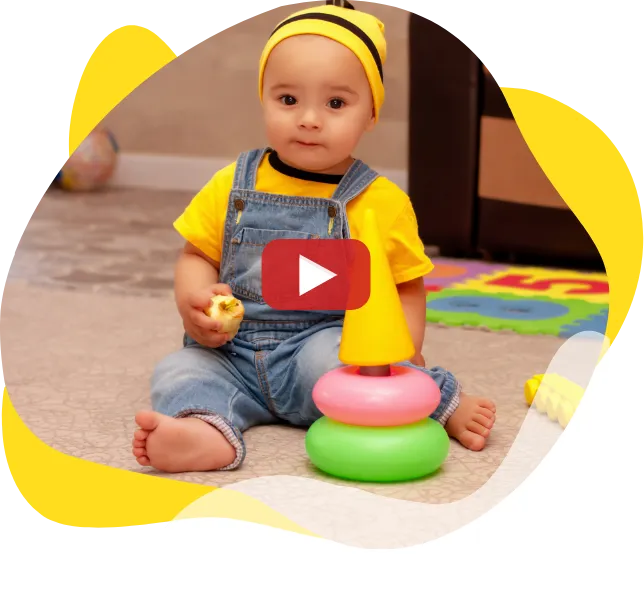 Petals' SAPLING, i.e. Pre-Nursery, is an upgrade that takes our Petalians a step ahead in their educational journey. At this age, children demonstrate affection while expressing their preferences, feelings, and interests. They also identify familiar noises, understand more complicated words, and carry on a conversation by switching topics. They are taught to use their newly acquired vocabulary when conversing with others. They also learn to run safely, climb confidently, mimic simple shapes, analyze changes in quantity or size when something is added to or removed, notice the fine details of objects, operate mechanical toys and much more.
At Petals, we believe that education is never just confined to books. The harmonious pace of growth prepares Petalians for a lifetime of learning experiences and cultivates admiration in them for creating, learning, discovering, and exploring. In SAPLING, i.e. Pre-Nursery of Petals, toddler's curiosity is also accomplished every month with new themes and concepts that focus on developing academic skills such as reading, counting numbers, writing numbers and alphabets, which enhances their cognitive skills, social habits and physical development.
Some activities include painting, dancing, hunting, phonics, sensory exploration, nature walks, looking through a magnifying glass, STEAM activities, and much more.
A day at Petals Pre-Nursery -
Morning Basket
Arrival

Petalians are greeted by our facilitators at a gate with a puppet and a grin. On their way to the class, kids shake hands, give hugs, and high-five each other. Their morning becomes more delightful and fun because of this experience.

Circle Time

Children participate in circle time to improve their emotional and social interactions with their classmates.

Life Skills

Petalians meditate, recite the Gayatri mantra and Sanskaram during this time. They also receive life lessons and moral guidance on topics like respecting elders, conserving energy, and touching elder's feet.

Concept Time

For the entire year, we follow a thematically driven program. Each month, we focus on a different theme in our curriculum.

Rhyme Time

Songs and rhymes support speech development as well as language acquisition. These sessions are unstructured learning opportunities that raise a child's spatial awareness, memory, and concentration.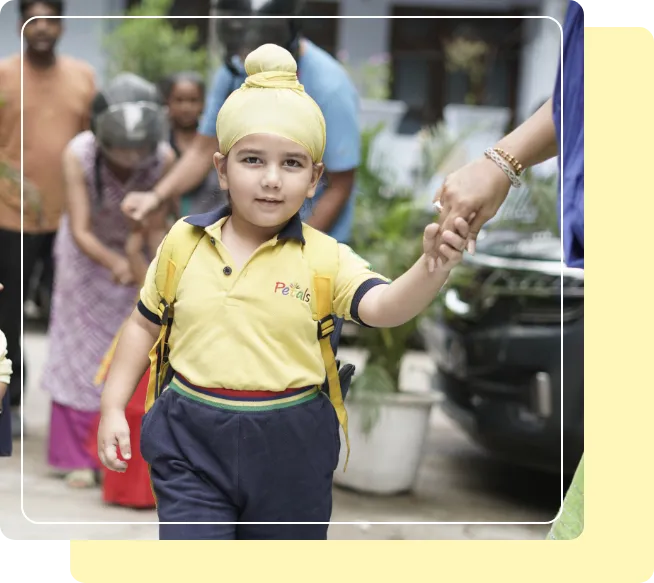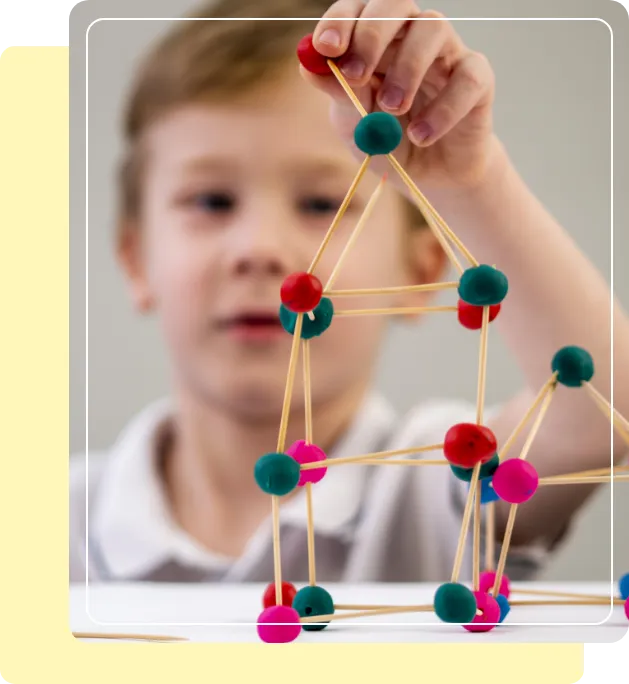 Engaging and Inquiry learning
Reading Time

Petalians enjoy spending time in the reading room, where they choose a book that appeals to them. The facilitator asks insightful questions that encourage learning and help our young Petalians' communication and language skills.

Montessori Time

Petalians employ the classroom's instructional tools, which helps students become confident, eager, and self assured learners. By interacting with the tools, kids are free to explore, ask questions, and form connections.
Fine & Gross motor skill development
Children's morale and confidence is boosted when adults help them in performing essential tasks like holding toys, feeding themselves, drawing, zipping and buttoning clothing, hopping, writing, riding a tricycle, jogging, walking, skipping, climbing etc.
Meal Time
We provide Four - Course Meal created under the guidance of an AIIMS nutritionist

Freshly Cooked

Nutritious & Healthy

Seasonal & Regional Cuisines

Fruit Breaks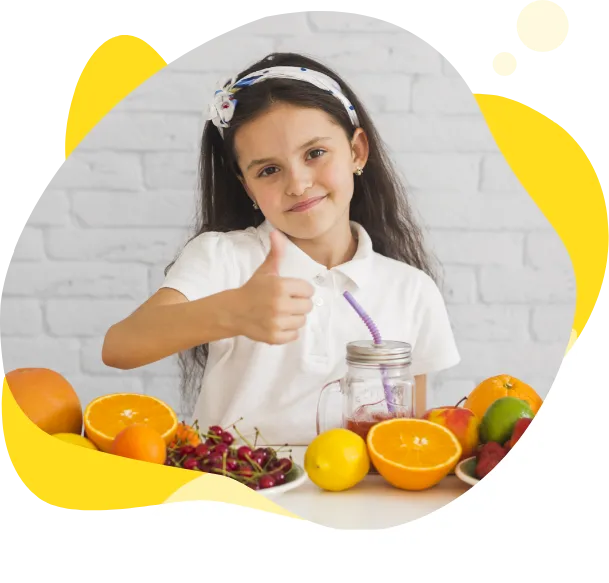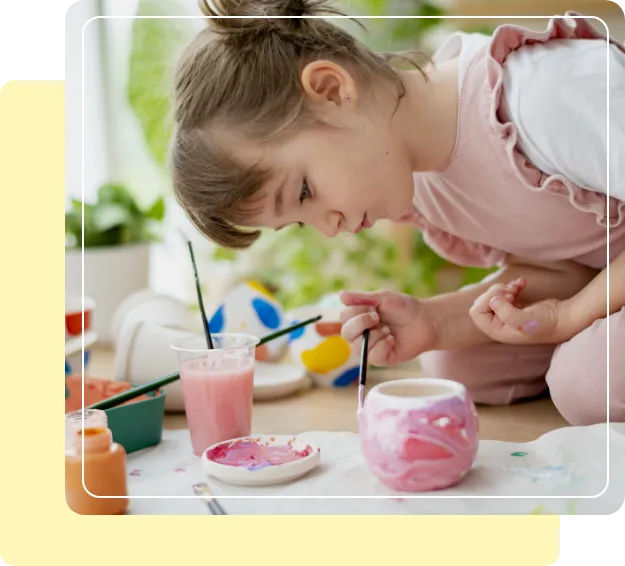 Expressive Arts & Designs
Activity Time

Petalians engage in both solitary and collective artistic and creative endeavors, such as handprinting, ceramics, coloring, painting, tearing and pasting, and fireless cookery.

Worksheet Time

Worksheets are a powerful tool for lifelong learning. It promotes critical thinking and attention retention, enabling Petalians to employ higher-order cognitive capacities.

Recapitulation Time

We hold recapitulation sessions where students reflect on the day and make connections to the lessons being taught in order to increase learning and cement the information that is presented throughout the day

Dispersal

Before they leave for the day, Petalians are shown love and appreciation with smiles and stars. They use the restroom, wash their faces, hang their bags with the intention of reconnecting the next day, and say goodbye to their friends and facilitators.
Start your child's learning journey with Petals

Enrol in Petals Preschool and Daycare and give your child the perfect start to their education!