Bud (Nursery)
Time - 3 hours
Age group- 3 to 4 years
Teacher student ratio - 1 : 10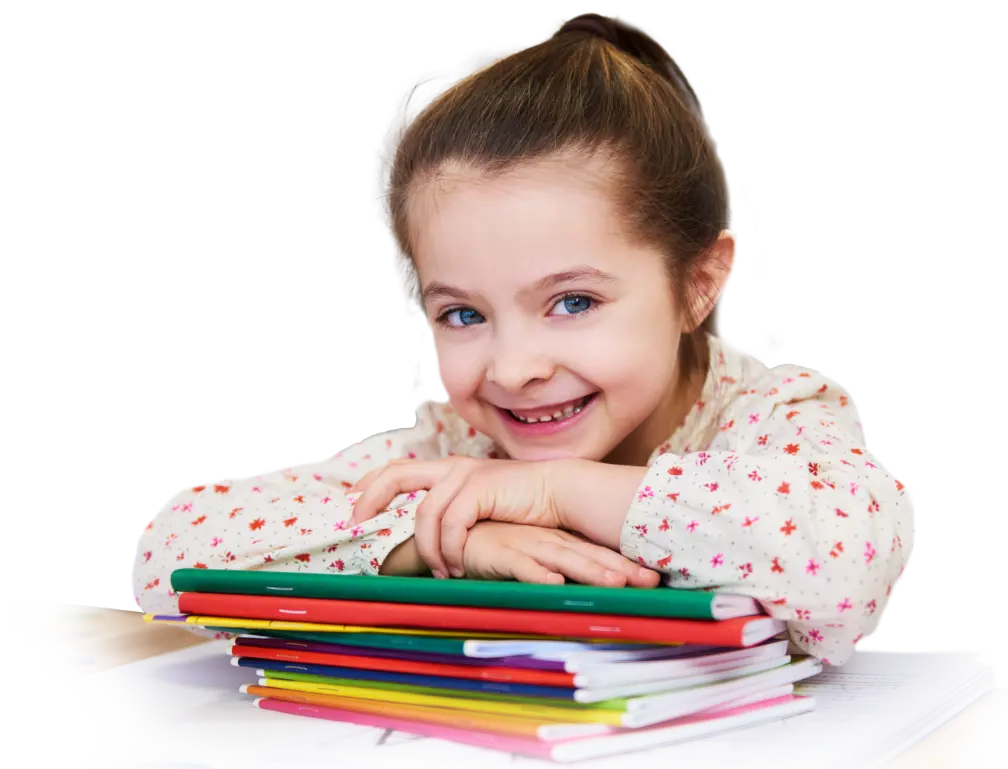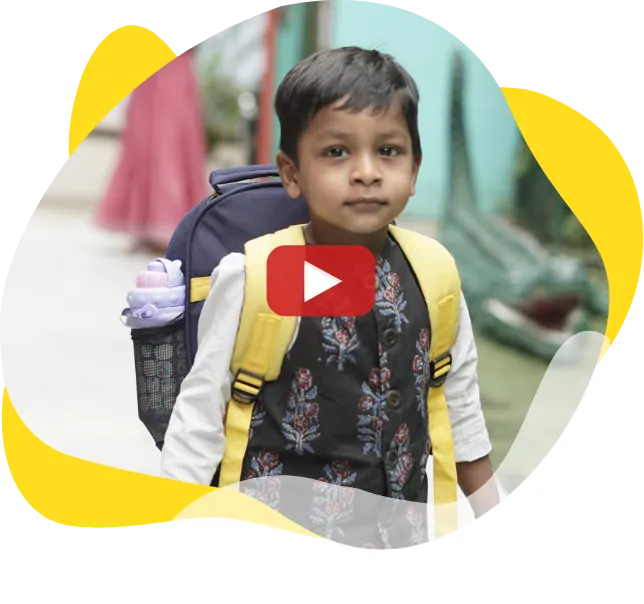 At Petals' BUD, i.e. Nursery, we aim to make our Petalians real thinkers who learn to taste a bit of independence in their way. We believe that learning is a proactive, experienced process that calls for active confrontation with one's surroundings and self. The lifelong learning process is built on three fundamental pillars: active inquiry, joyful learning, and the fortitude to overcome various obstacles. Our caring and experienced facilitators are dedicated to providing a rich and nurturing environment that will prepare our Petalians in Nursery to follow a formal curriculum in the coming years.
In Petals' BUD, i.e. Nursery Our Petalians learn to choose what to draw and create with their toys and decide when to visit the washroom. Additionally, they are taught the importance of listening, sharing, and cooperating when working in a group. Through monthly themes, early literacy is introduced to foster the reading, writing, and reasoning abilities necessary for this age group to reach developmental goals. Blocks and other building items encourage critical thinking, while crafts and outdoor play foster creativity and gross and fine motor development. However, role-playing games expand their level of creativity.
Some activities include connecting time, phonics, camouflage, pretend play, dramatization, hopping on the numbers, finding the correct vocabulary, drawing, STEAM activities, treasure hunts, excursions, culmination, and much more that takes Petalians' imagination to another level.
A day at Petals Nursery -
Morning Basket
Arrival

Our facilitators meet Petalians at a gate with a puppet and a smile. Children exchange handshakes, hugs, and high-fives as they walk to class. The encounter makes their morning more enjoyable and delightful.

Circle Time

For the purpose of enhancing their emotional and social interactions with their classmates, kids participate in circle time.

Life Skills

Petalians meditate, chant the Gayatri mantra and Sanskaram during this time, and they also acquire valuable lessons and life skills on topics like respecting elders, saving energy, and touching their feet.

Concept Time

We commit to a program that is thematically focused throughout the entire year. Our curriculum focuses on a different theme every month.

Rhyme Time

Rhymes and songs aid in both vocabulary acquisition and verbal development. These exercises are exploratory learning experiences that help children improve their remembrance, ability to focus, and spatial intelligence.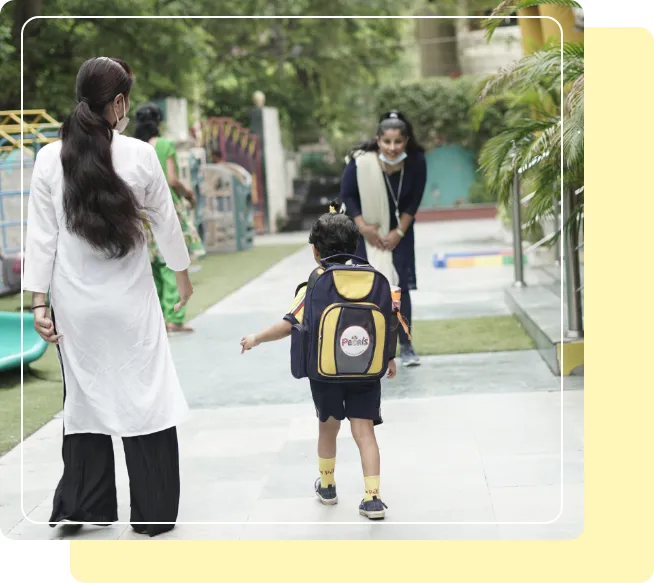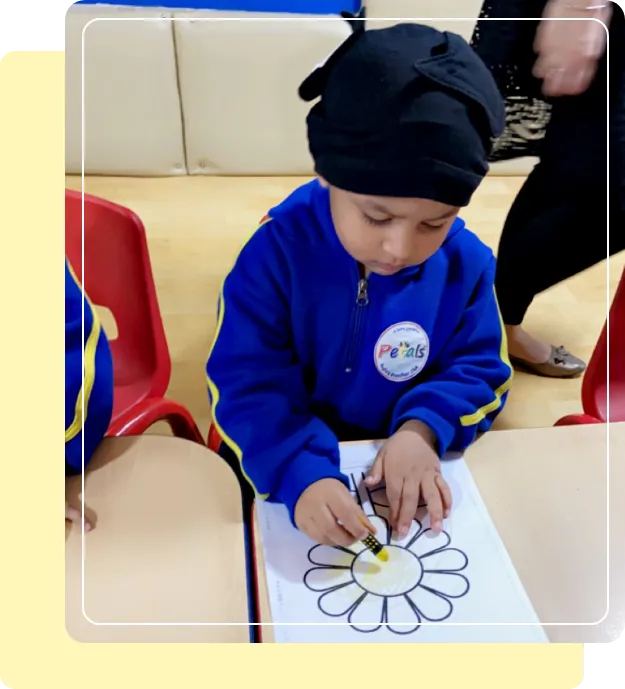 Engaging and Inquiry learning
Reading Time

Petalians spend time in the reading room, selecting a book based on their interests. The facilitator asks thought-provoking queries to encourage inquisitiveness towards learning, which improves our little Petalians' abilities to communicate and speak.

Montessori Time

Petalians employ the teaching tools in the classroom, which helps them become confident, enthused, and self-assured learners. By using the kit, they are free to explore, inquire, and make connections.
Fine & Gross motor skill development
At the age of 3, children move their fingers independently and perform complex tasks such as holding utensils, cutting with scissors, drawing faces, run with ease, throw and catch a ball without losing balance, jump over, etc., building their self-esteem and confidence.
Meal Time
We provide Four - Course Meal created under the guidance of an AIIMS nutritionist

Freshly Cooked

Nutritious & Healthy

Seasonal & Regional Cuisines

Fruit Breaks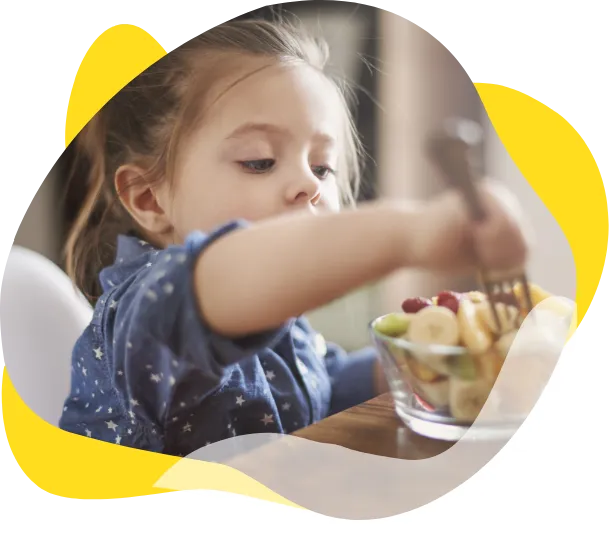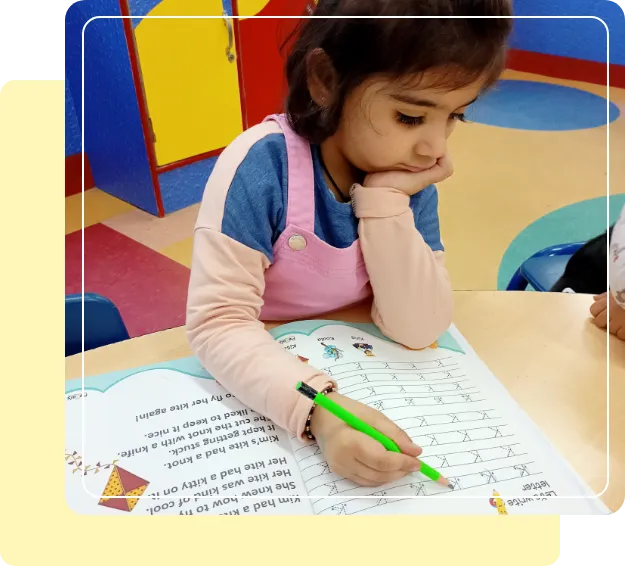 Language / Literacy Development
Teachers lay the foundation for reading and writing in Petalians, where they learn to identify and recognize the letters (both cases), name the vocabulary, sing phonic action songs, explore books, sight read the action words, blend and read two-letter terms.

Our Petalians enquire and answer questions, create stories of their own, verbalise five lines on themselves, confidently perform on stage and engage in various activities as well.
Logical Development
At Petals, children learn numbers up to 50 (oral and written), quantify objects, compare quantities, find patterns, match the numbers, circle the odd one, and grapple with real problems such as balancing a tall block building or sharing a bowl of crackers somewhat with a playmate, etc.

Petalians develop their memory retention, logical thinking, and ability to reason and make conclusions.
Expressive Arts & Designs
Activity Time

Many activities are held around the topic of the month, and our Petalians take part in both individual and group art and craft projects like tearing and pasting, ceramics, coloring, painting, cooking without fire, hand printing, etc.

Worksheet Time

Worksheets are a powerful instrument for learning that lasts a lifetime. It promotes critical thinking and attention retention, enabling Petalians to employ higher-order cognition skills.

Recapitulation Time

We hold recapitulation sessions where students reflect on the day and make connections to the lessons being taught in order to increase learning and cement the information that is presented throughout the day.

Dispersal

Before they go for the day, Petalians demonstrate their support and gratitude by flashing smiles and stars. They wash their faces, hang their bags with a promise to reunite the next day, use the restroom, bid their friends and teachers goodbye.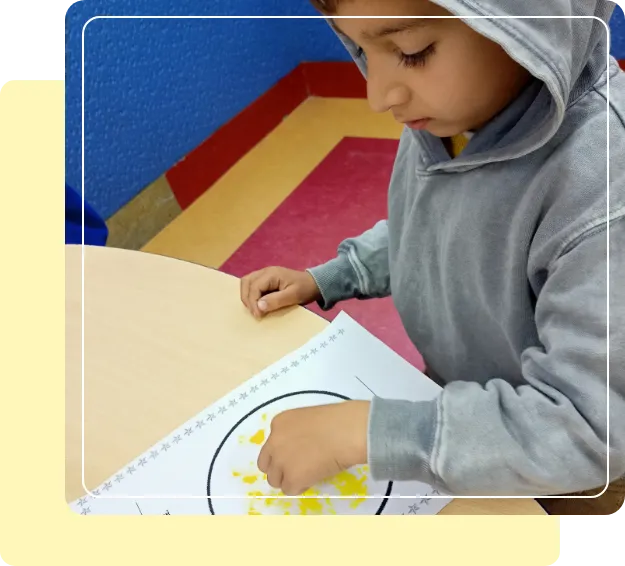 Start your child's learning journey with Petals

Enrol in Petals Preschool and Daycare and give your child the perfect start to their education!