Flower (Kindergarten)
Time - 6 hours
Age group- 4 to 5 years
Teacher student ratio - 1 : 10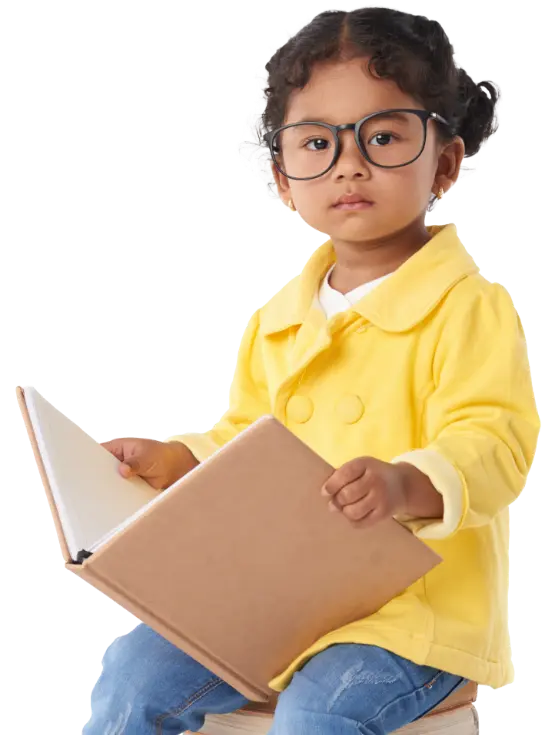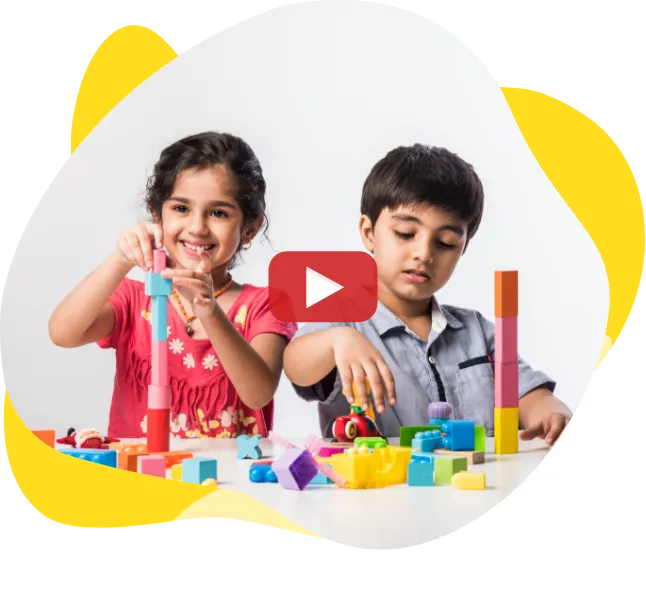 In Petals' FLOWER, i.e. in Kindergarten, Petalians prepare to face the world after completing the last program of their education. They are introduced to a well-planned, structured curriculum that will act as a perfect launch pad for Grade 1. The life lessons our students learn at this age equip them to be balanced, morally upright, model citizens who are also analytically capable of handling unplanned life challenges.
At Petals' FLOWER, i.e. Kindergarten, a planned curriculum serves as the basis for nurturing the child.
The development of life skills and academic advancement are the key priorities that we follow. Petalians gain knowledge of complex mathematical concepts like "before, after, and between" and sentence construction and advancement of the Hindi language. Our programmes are designed to address each child's specific needs. To guarantee that the kids are equipped to be successful in everything, our facilitators give opportunities for exploration, questioning, and communication and create a pleasant and encouraging environment.
Children begin to grasp the ideas of intellectualism, asking and answering open-ended questions, and most importantly, the idea of time. Each child is cared for within the confines of a professionally created organized curriculum that fosters the development of a variety of abilities in children, including musical, technological, numeracy, literacy/communication, life, and exploration skills.
Some of the activities are - connect time, drawing, life cycle, dramatization, excursions, hopscotch, paper origami, dice fun, dig & find, experimentation, exploration, culmination, and much more.
A day at Petals Kindergarten -
Morning Basket
Arrival

Petalians are welcomed by teachers with a puppet in hand and a smile at the entry gate.On their way to class, kids shake hands, give hugs, and high-five each other. Their morning is made more joyful and sociable by this encounter.

Circle Time

In Circle Time, children participate to boost their interpersonal and intellectual relationships with their classmates.

Life Skills

Petalians meditate, hymn the Gayatri mantra and Sanskaram during this time, and they are enlightened about life skills and morals like touching the feet of elders, conserving energy, and water, etc.

Concept Time

A theme-based approach teaches children to make connections, resulting in a much deeper knowledge. Students' critical thinking skills improve when they regularly examine ideas, compare and analyze points of view, utilize knowledge, and generate new ideas.

Rhyme Time

Sessions involving rhymes and songs are unstructured learning opportunities that enhance cognition, focus, spatial awareness, and memory.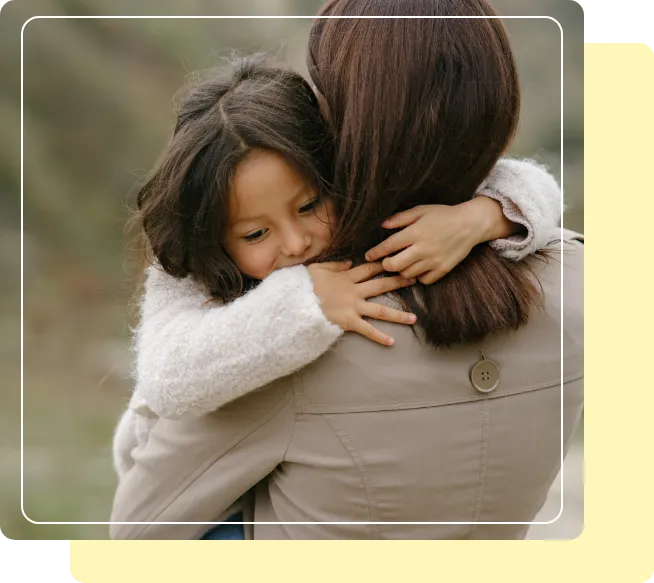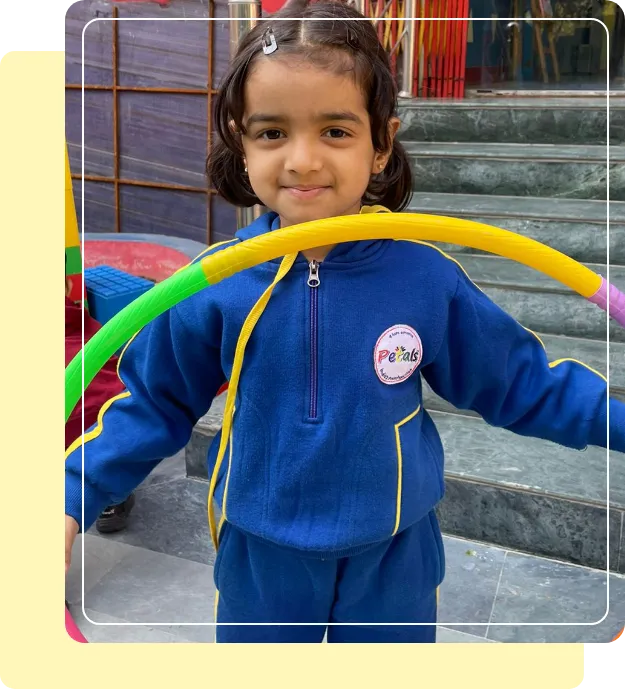 Engaging and Inquiry learning
Reading Time

Petalians spend some time in the library where they choose a book based on their preferences. The facilitator asks probing questions that encourage learning and improve the language and communication abilities of our young Petalians.

Montessori Time

Petalians employ the teaching tools in the classroom, which helps them become competent, enthusiastic, and self-assured students. While using the tools, they are permitted to investigate, inquire, and interact.
Fine & Gross motor skill development
At the age of 4 years, children consistently use one hand to perform any chore. They independently achieve the task of cutting as per the pattern, folding clothes/paper, putting together simple 10 to 12-piece puzzles, jump over a hurdle, hop on a leg, gallop 10 feet, change direction while running, jump sideways, etc.
Meal Time
We provide Four - Course Meal created under the guidance of an AIIMS nutritionist

Freshly Cooked

Nutritious & Healthy

Seasonal & Regional Cuisines

Fruit Breaks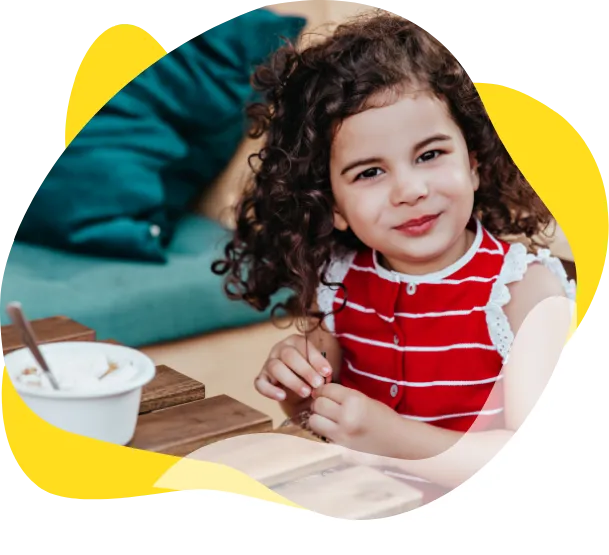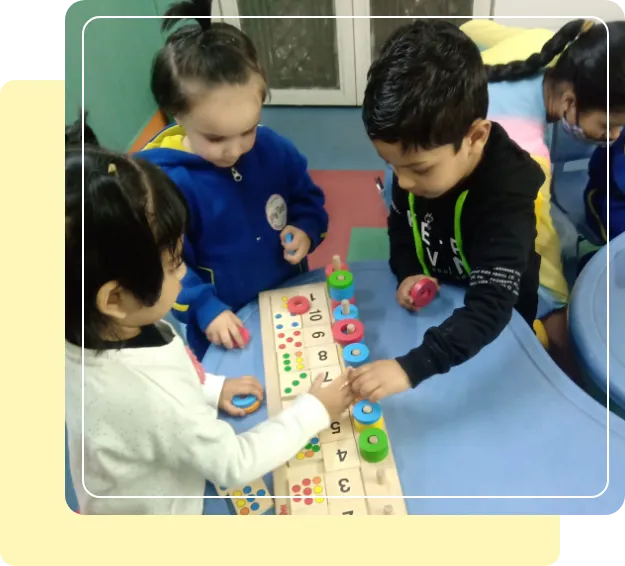 Language / Literacy Development
In inquiry-based teaching, we teach our Petalians both Hindi and English language skills that are receptive (the ability to listen to and fully comprehend language) and expressive (the ability to use language to express ideas, thoughts, and feelings).

Petalians dive into various concepts like- Modes of communication, Ancient & modern means of transport, the Universe, classification of animals, birds, creepy crawlies, etc., where they participate in picture talks and group discussions to enhance communication skills.

In literacy, petalians are exposed to 3 letter words, four letter words, digraphs, spatial words, action words, and pointing words through stories and flashcards.
Logical Development
Children do numbers till 100 (oral and written), backward counting, time, money, addition, subtraction, skip counting, number comparison, before, after & between through experiential learning.

Petalians develop their memory retention, logical thinking, and ability to reason and make conclusions.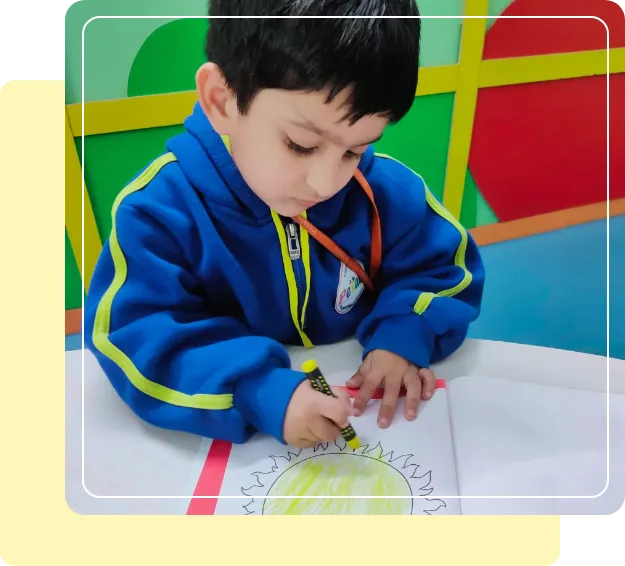 Expressive Arts & Designs
Activity Time

Petalians can investigate their environment, where they gain a lot of knowledge while being watched over by the facilitator. We focus on their enthusiasm and tackle more difficult chores like dressing up, riding trikes, sowing seeds, cooking without a fire, drawing, coloring, or making something from nothing. Being attentive and creative to further encourage the youngster to be a safe and content explorer.

Worksheet Time

Petalians finish their worksheet, which boosts their capacity for thought and attention retention. In order to foster interest, engagement, and language development, they also participate in role playing, image talk, tale narration, and group discussions.

Recapitulation Time

Recapitulation time is used to help kids review their days and make connections to the lessons being taught in order to increase learning and solidify the knowledge that has been imparted during the day.

Dispersal

Prior to leaving for the day, Petalians are provided support and gratitude with smiles and stars. Before saying goodbye to their friends and facilitators, they use the restroom, wash their faces, hang their bags, and make plans to reconnect the next day.
Start your child's learning journey with Petals

Enrol in Petals Preschool and Daycare and give your child the perfect start to their education!